Posted on 2020-09-01
---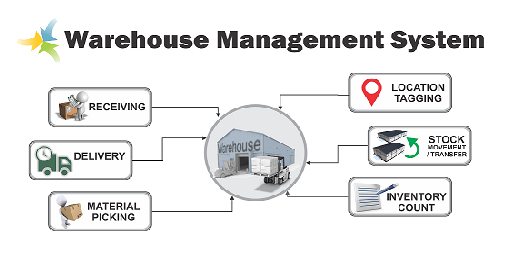 ---
As a knotty wave and a rapid increase of data in the unprecedented development of technology, business owners tend to grab the opportunity to enhance their key competitive advantage strategies to cope up the the business warehouse trends. Hence, the evolution and development of different types of warehouse management systems started. Business Analysts state that WMS is very essential to the plethora of business industry since this is still thriving and unfathomable. Although using this system has its own pros and cons. Somehow, it enhances the warehouse management practices at the same it can also go down in flames. Here are some of the major challenges that can be encountered in a warehouse management process:
Receiving


Receiving is the initial phase in the inventory and warehouse management procedures. Inventory personnel should be knowledgeable from accepting deliveries to verify count and quality accuracy, proper inspection of goods to make sure there are no damages, secure, clean and organized storage for the gathered materials, packing assignment, up to the finished goods. Improving the receiving process can be exhausting and takes a lot of time since quality control is important, the transfer of goods should be correctly and efficiently done.
Locating


On time production and deliveries affects how fast we can locate the inventories needed. Assigning a location for every inventory is a crucial part to ensure that it is well maintained in a good stocking condition and for the ease of locating. For some big warehouses, location assignment and identification will take a bunch of effort in running through the records, and mapping out the inventories can become a terrible headache. To overcome this, companies tend to require multiple personnel to cater all the inventory issuances and movement requests. With a proper system to accurately track all the movements of an inventory in a warehouse, this will increase the warehouse's efficiency by eliminating unnecessary bottlenecks in finding an item, which is also a key for an Optimized Picking.
Inventory Accuracy


This is very crucial to the warehouse management practices since, physical records and electronic records should be closely scrutinized to ensure accurate counts of data. ABC analysis shall be practiced in this process as this involves placing and classifying the items based on their importance in the inventory, an example of which is by assessing the current assets of the company. It might be time-consuming but with the right control of the inventory this will keep the business on track. Manually keeping and keying data can result in unexpected errors and this can cause overspending, delays of deliveries, auditing mistakes, etc. by barcoding system and locator tagging you can create custom labels, print by bulk, and eliminate inventory write-offs while improving asset tracking and service levels.
Optimized Picking


Picking is one of the most expensive parts of the warehouse process, where the fulfillment of the planned production and order preparation operation takes place. Optimizing it requires labor-intensive activity and thorough inspection of the materials and products. To smoothly run the picking process and achieve higher accuracy in taking and collecting to fulfill the orders of the customers, labors or operators must be equipped with the accurate information of the stocks on-hand and should be able to identify which items are needed to be picked. Inventory Control methods like FIFO (First In First Out) is usually being implemented. This simple method along with the consideration ofeach stocks' condition – FEFO (First Expired First Out) an enhanced FIFO, which will help a company to eliminate unnecessary costs in stock handling and stock expirations by taking each stock's expiration date as a part of its primary consideration for picking.
Accurate Issuance


This involves material requisitions, material returned transactions, material transfers and product deliveries. Operators are required to confirm all necessary goods that are already prepared for the planned manufacturing process and product deliveries, and transferring of those items in another location to disperse to fulfill production requirement and customer orders. The issuance process requires a keen and careful handling to ensure the stock distributions are properly executed. During this process, incorrect deliveries or incorrect material usage may happen if we fail to ensure the accuracy in issuances which normally happens especially if wrong stock tagging and poor stock inspections have been made. Warehouse Management System Solutions have been developed nowadays to aid these issues and challenges. These solutions offer you different tools to conveniently manage your warehouse and stocks.
The Solution - NXPERT ONE WMS
NXPERT ONE WMS, is one of the proven effective solutions that promotes efficiency and convenience for stock handling and control. Its core functions for Receiving to Issuances mainly utilizes the 2D FORMAT of barcoding or QR code, offering more convenience to users to easily perform better warehousing operations.
Enhanced with a supplementary mobile handheld device that extends more flexibility to track down stocks in your warehouse, record and monitor stock movements and most of all, reduce the time for performing inventory counts for more than 50% of your usual time-consuming labor. Mobile Handheld devices also eliminate errors in warehousing operations which result in saving you money and improve quality and product and services to your customers.
NXPERT One is a system that can aid you through your usual warehouse management problems:
Receiving – Equipped with QA functionality and automatic conversion from Order Unit to Issuance Unit.
Locator Tagging – Selection of available locations with the convenience of location assignment using mobile handheld devices.
Inventory Processing – With QR Barcoding and availability of handheld devices, offers a substantial increase in the speed of physical counting of inventories and ease of reconciling physical count data to System Recording.
Inventory Picking – With the automated FEFO (First Expired First Out) picking, an enhanced FIFO (First In First Out) method, you can control the expiration of stocks or piling up of dead stocks in the inventory. In FEFO, both expiration date followed with each stock's arrival date,have been taken into its determining factor on which stocks that needs to be picked first.
Stock Issuance – Improve the accuracy of issuing stocks from a warehouse with an easy-step process using a mobile handheld device.
Data Engine – a customizable reporting tool to extract Inventory data and metrics which allows per user preferences and exports to Excel/CSV for further analysis.
Perfect Inventory – can be achieved with a system that can efficiently and accurately monitor all your stock's movement in your warehouse and gives you an overall control of your inventory.
NXPERT WMS has the designs that were made by fine system engineers who gained their years of experiences in designing and implementing ERP solutions.
---
---